Education to prevent harassment in the workplace
Cosel respects the fundamental human rights of all people and endeavors to create workplaces free of discrimination based on gender, age, disability, or other status and of acts detrimental to individual dignity.
Cosel's Standards for Voluntary Actions clearly state, "we will never commit sexual harassment in any way" and "we will never engage in any behavior outside the proper scope of business that slanders the personality or violates the dignity of the person or commit harassment (power harassment) by taking advantage of a superior position of power." We also maintain Rules on Prevention of Harassment and strive to prevent reoccurrence of past cases of harassment.
All employees are provided with anti-harassment education during the annual compliance education program, to raise awareness of harassment throughout the organization.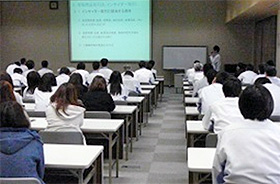 Establishing contact points for consultation
Cosel has set up contact points to receive reports from employees and consultation on whether or not certain behavior violates laws and regulations. These contact points provide consultation and problem-solving services. In addition, our in-house rules require strict confidentiality and prohibit any disadvantageous treatment of those who have reported cases of harassment.
We intend to continue strengthening our harassment reporting system by ensuring all employees are aware of the contact points and improving advisors' skills.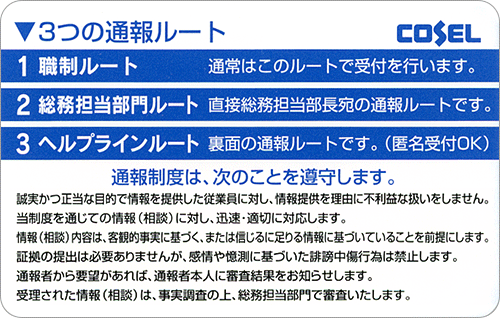 Leave Systems
Cosel has introduced the following leave systems to improve employees' work-life balance.
Family-care leave/time off
Employees caring for family members who require long-term care can take family-care leave/time off in accordance with the terms and conditions of these programs.
Encouraging employees to take paid leave systematically
We encourage employees to take paid leave through in-house rules that require them to take two days of their annual paid leave each half-year.
Since the number of days of paid leave taken decreased in FY 2020, we will continue to encourage employees to take paid leave, to enable a sound balance between work and family life, time for self-improvement, and rejuvenation.
Refreshment leave
Employees may take days refreshment leave for numbers of days corresponding to their years of continuous service in milestone years. This leave is intended for mental and physical refreshment purposes (including recognition of their service, health maintenance and improvement, and enrichment of home life).
Consideration for working hours
Flextime system
We employ a flextime system so that our employees can work efficiently while balancing their work and personal lives.
No-overtime day
Cosel has designated Wednesday of each week as no overtime work day, on which employees are encouraged to leave the workplace at the end of regular working hours to make time available for pursuing hobbies, learning new things, and spending time with their families.
Creating safe, healthy workplaces
Industrial health and safety
In accordance with the Industrial Safety and Health Act, a Safety and Health Committee is established at each Cosel plant in Japan to engage in activities related to health and safety. Committee members recruited from each division strive to prevent accidents on the job and improve health and safety conditions in the workplace, aiming for a goal of zero on-the-job accidents.
Unfortunately, the number of industrial accidents increased in FY 2020. Safety and Health Committees will continue to strive toward the goal of zero on-the-job accidents, by returning to the fundamentals of health and safety and reviewing and enhancing employee health and safety training, as well as implementing new measures such as checking on the state of establishment of measures to prevent reoccurrence of past on-the-job accidents.
The number of industrial accidents

Health management
Excessive workloads, such as extremely long working hours, may exacerbate health problems such as cerebrovascular and heart conditions.
At Cosel, employees who exceed the limit on overtime work (i.e., those whose average monthly overtime hours for the last two months exceed 70 hours and those who work more than 100 hours of overtime in a single month) are required to meet with an industrial physician, and those whose average monthly overtime hours for the last two months exceed 45 hours may request to consult with an industrial physician.
Through these efforts, we strive to prevent health issues caused by work.
Company Newsletters
Purpose of Company Newsletters
Newsletter Committee is playing a central role in issuing Company Newsletters twice a year, hoping that everyone provides topics of conversation and serves as lubricant, making Cosel a company that everybody feels fortunate to be a part of.
Topics Covered
Our newsletters cover a wide range of topics including ones related to our workplaces, club activities and hobbies which employees are proud of.
Every issue of our newsletter provides enjoyable topics, sometimes revealing our colleague' hidden talents and sometimes showing us hidden less pretentious side of our usually naggish bosses.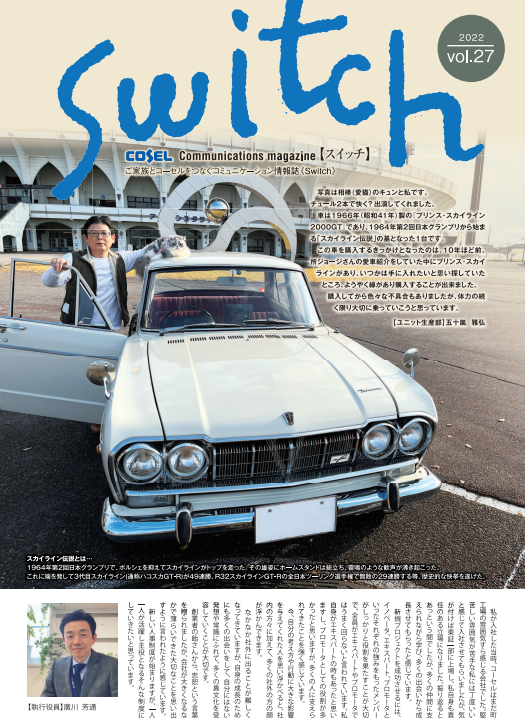 Self-improvement and skills development
Cosel's human-resource development initiatives include a system to support every employee's autonomous growth, based on our education philosophy and policies. Our management philosophy says of human-resource development, "We develop human resources with the ability to conduct quality control, advanced technical skills, and good personalities that serve as an engine for business expansion based on our educational policy." We have established the following basic educational policies in line with this philosophy.
Stimulation of workplaces
Enhancement of leadership
Learning required knowledge and techniques, and improving skills
Developing skills to operate and maintain an appropriate quality system
Recognizing the necessity of the environmental management system and developing the skills needed to operate and maintain it
Education of human resources
Employees take various educational courses to learn in accordance with the basic educational policy and develop their own individuality and skills while stimulating each other.
Education categories/System of education by level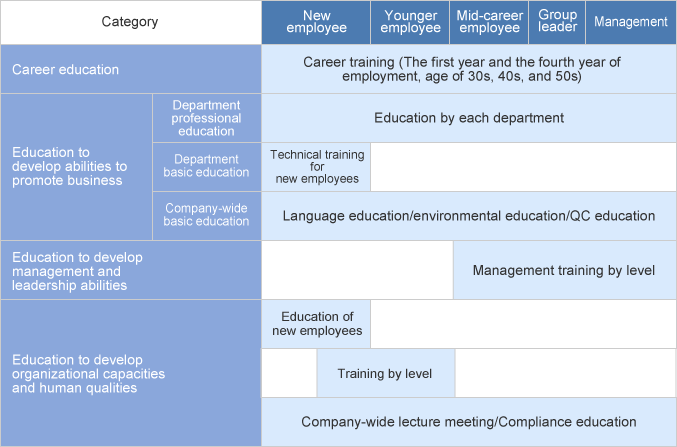 Career Training
An opportunity of reflecting on ourselves to lead to take a step for action in order to cultivate our future
Education to develop business development capabilities
Training for expert and operational knowledge as well as technical skills needed for business development
Management leadership power training education
Leadership training to improve abilities to implement organizational activities, develop strategies, plan and develop business and identify challenges with a view of cultivating future management
Organization/human being upbringing education
Improvement of loyalty and motivation at both individual and team levels. Also cover basic business protocols including ethics and moral.
Quality control training
7 QC tools, New 7 QC tools, Statistical Quality Control, Reliability, Experimental design method, etc.
Along with above, cultivating abilities by taking seminars held by Union of Japanese Scientists and Engineers, Toyama Association of Corporate Executives, and so on.
Promoting correspondence courses
We provide all employees with the "Guidebook for Correspondence Courses" every year and they take the courses voluntarily.
We support all amount on the expense of this education.