Promotion of 3R (Reduce, Reuse, Recycle) activities
We are promoting and working hard on 3R activities from the perspectives of the reduction of environmental burden and the effective use of resources. In 2014, we set up the goal of having a recycling rate of over 95%, and achieved a 95.7% recycling rate. We will keep working hard on the reduction, recycling, and separation of waste.
Discharge amount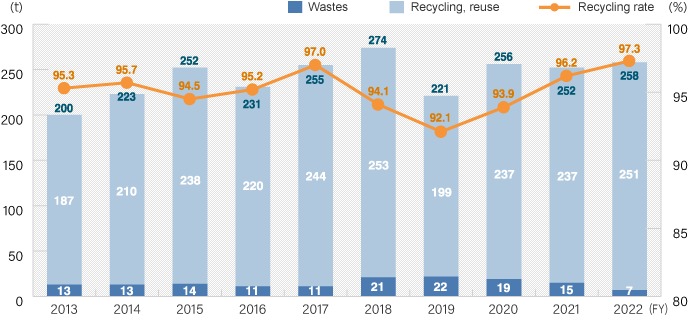 Recycling rate

Examples of our efforts
Reduce
Air cap bags were used to send certain components to our contract manufacturers. They were disposed of as industrial waste after being unpacked.
We reduced the amount of waste by using reusable and returnable containers as a new packing material.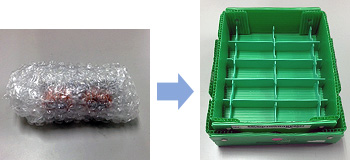 Reuse
Chip components are wound on plastic reels and shipped from suppliers to us. We had disposed empty reels of as stabilized-type industrial wastes. Because usually not deformed, stained or damaged after use, the empty reels are now collected and reused by suppliers.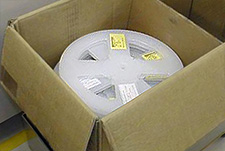 Recycle
Defectives that cannot be shipped as the products and substrates that were cut off in the production process were disposed of as industrial wastes. Now we separate them into metals, plastics, etc., before disposal so that they can be used to cast ingots or serve as a combustion improver in furnaces.
We regularly check the status of separation to raise employees' awareness of waste separation.