Basic attitude toward quality
Cosel has set the quality policy "Creating customer confidence through our products and services." based on our management philosophy (organizational goal) "Responding to the Trust of Society by Putting Quality as the Most Important Priority."
We believe the basis of quality assurance activities to be the reliability of products and the provision of a sense of security to customers, which form the foundation of the trust of society including customers.
Cosel will strive to continuously improve quality at all stages from product planning and development to production, sales, and service in order to provide our customers with attractive products and services that win their trust and make them feel secure and satisfied.
Quality management framework
The chart below describes flows, relations, and related groups that our quality management system requires.
Quality management structure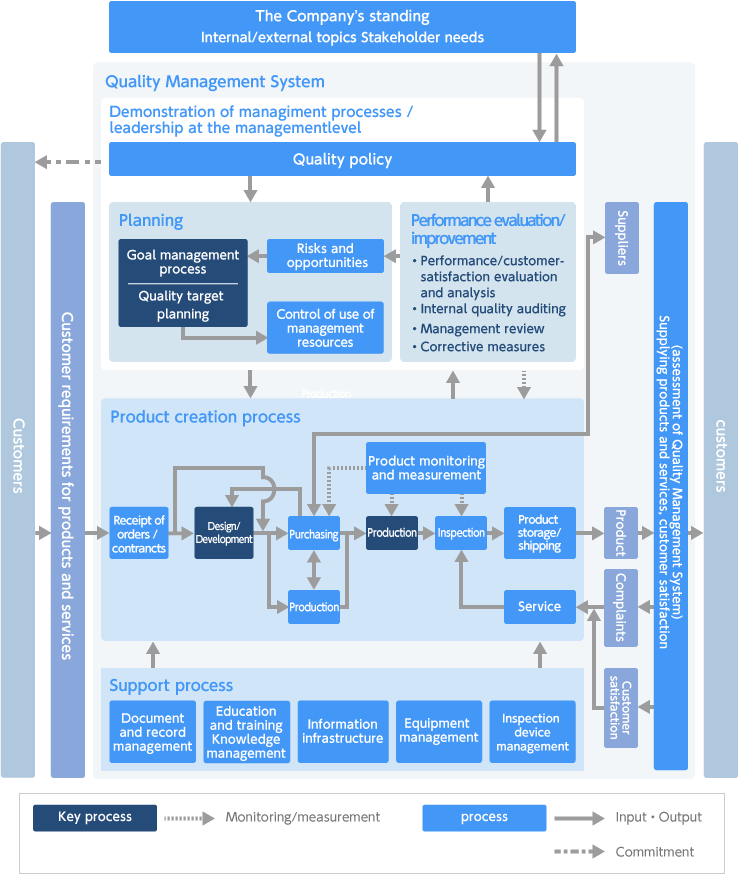 ISO9001 certificate
We have acquired ISO9001 certification and established the quality management system to implement thorough quality management.
We started the use of the 2015 version in October 2016, had a transition audit in June 2017, and successfully acquired certification of the 2015 version.
We will work hard to further improve product quality and customer satisfaction.
Date of Acquisition
1987 Version: June 21,1993(Toyama prefecture first issue)
2000 Version: March 20, 2003
2008 Version: July 23, 2010
2015 Version: July 7, 2017
Scope of Registration
The design/development,manufacture ure and servicing of stabilazed power supply.
Servicing is limited to returned products.
The design/development,manufacture(outsource) and servicing of noise filter.
Servicing is limited to returned products.
Registered office
Cosel Co., Ltd.
Associated organization
Head Office factory
Tateyama factory
Each sales office
Registered by:
Japan Quality Assurance Organization
Customer Support
We provide technical support service available by toll-free phone and contact form on the website and our dedicated support staff members do their best to respond to inquiries from our customers quickly and accurately.
We also provide a wide range of services such as visiting to customers and product evaluation at our facilities with customers present, as well as technical consultation.
We have stored the details of more than 100,000 technical consultations we received in a database to utilize such data to improve products and services.
We also strive to improve them by collecting complaint information, performing customer satisfaction surveys, and continuously examining and analyzing customer feedback.
Response to complaints from the field
When failures occur, our technical staff members deal with them promptly and accurately. We provide maintenance services such as failure analysis, repair, and overhaul when defects or failures occur in the field or within processes.
In case of defects, we always ask customers about the situation and environment where defective products are used and accumulate such information. By using accumulated data of past instances, we work hard to investigate the cause and fix defects as soon as possible.
In addition, we analyze the defects of products returned from the market and provide feedback to the product development site and the production site. Then we implement the PDCA cycle for improvement from a customer perspective. By doing so, we strive to improve product quality and strengthen our services so that they can satisfy customers.
Protection of customer information
Cosel's Standards for Voluntary Actions specify that "we will never leak confidential information without a appropriate reason." We properly handle the information we receive from our customers and never leak those pieces of information
There are concerns that mineral resources mined in the Democratic Republic of the Congo and 9 neighboring countries are financing armed groups in these regions. In order to address this issue, the Dodd-Frank Act was enacted in July 2010 in the United States and U.S.-listed companies are required to conduct inquiries to determine the refiners of the conflict minerals they use and file a report to the U.S. Securities and Exchange Commission.
We have agreed with the purpose of the Dodd-Frank Act and established the rules for conflict minerals investigation to promote the responsible procurement of minerals. We explain the purpose and necessity of the conflict minerals investigation to our clients and collect information utilizing a CMRT (Conflict Mineral Reporting Template).
When requested to disclose information on the results of the conflict minerals investigation by customers, we provide information with a CMRT.