Promotion of energy saving
We have been consuming a large amount of energy power. In order to reduce power consumption, we are conducting energy saving activities. Since the establishment of the company, all the fluorescent lamps at our plants and offices have had pull switches and we have been making sure that the lights are turned off during breaks and when not in use to reduce the amount of power consumed. Today we utilize a power monitoring system we have established to call employees' attention by releasing power usage data by area on the Intranet.
In addition, we set the goal of reducing CO2 emissions by 30% in 2020 compared with 2005. We will further promote our efforts for energy saving and global warming prevention by developing Eco Products and implementing measures to reduce energy consumption.
CO2 emissions in manufacturing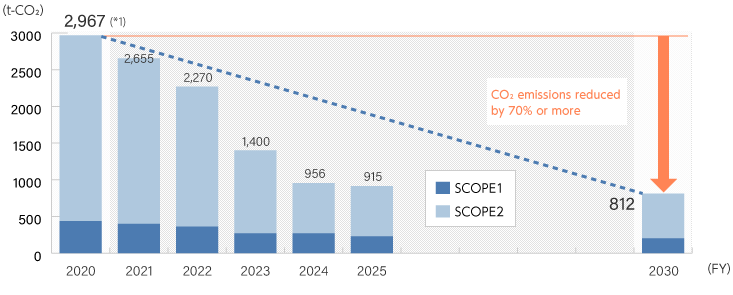 CO2 reduction target

Use of renewable energy
In 2002, a 60kw solar power generator was installed on the rooftop of the new Head Office building. It generated approx. 60,000kwh per year (reduced CO2 emissions by approx. 25 tons.) A 50kw solar power generator was installed on the rooftop of the Tateyama Factory in 2004 and two more generators were added in 2007 and 2011. They generate approx. 200,000 kwh per year (reduce CO2 emissions by approx. 88 tons.)
We also have installed a power generation display monitor in-house so that employees can check the amount of power generation anytime.
Amount of power generated by the solar power generators