Environmental Management Structure
We have the environmental management structure to conduct efficient environmental controls.
Environmental Management Structure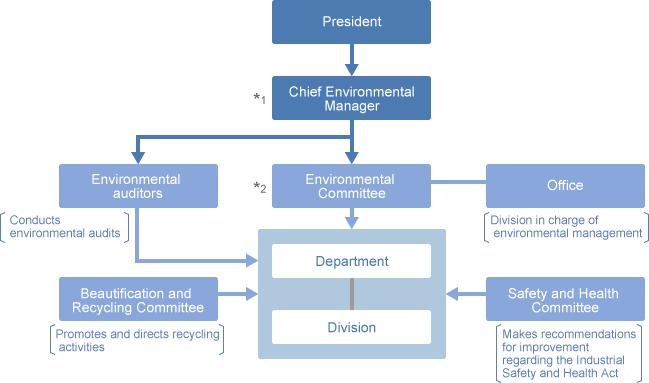 *1 Chief environmental manager = Chairman of Environmental Committee
*2 Made up of the heads of major departments
ISO14001 Certification
In order to become a company that is trusted by stakeholders, we have acquired ISO14001 certification at our Head Office Plant and Tateyama Plant and are continuously promoting improvement activities. We started the use of the 2015 version in October 2016, had a transition audit in June 2017, and successfully acquired certification of the 2015 version.
Date of Acquisition
1996 version: December 17, 1999
2004 version: October 21, 2005
2015 version: Septmber 1 ,2017
Area Covered
Head Office and Plant
Tateyama Plant
Registered by
Japan Quality Assurance Organization
Internal Environmental Audit
We conduct the internal environmental audit every year to ensure the compliance with ISO14001, the status of implementation ,and performance.
Auditors inform department managers of the result of assessment including findings for improvement. They are continuing to implement actions for improvement including reviews of their activities.