In order to deliver environmentally-friendly products to customers, it is important to understand the content of chemicals not only in our products, but also in our suppliers' products, to disclose and to communicate information smoothly. We are working hard to build a supply chain-wide system to this end.
Cosel established Green Procurement Standards in 2004 and has been using them as terms of business with our clients. We conduct a regular review to comply with laws and regulations and promote green procurement.
Management of new components, new products, and mass-produced products
Since 2006, we have been conducting X-ray fluorescence analysis (*) by target measurement parts to prevent the entry of environmentally-unfriendly chemicals into our products. X-ray fluorescence analysis allows us to confirm and verify compliance with the "RoHS Directive."
The evaluation is performed at the following 3 levels.
Adoption of new components and launch of new products
When employing a new part, we ask suppliers to submit a Warranty for Non-inclusion of RoHS Materials in order to confirm the non-inclusion of the substances restricted by the RoHS Directives.
In addition, we also ask them to submit a list of used materials for each component and check the actual goods against the list to check for any omissions. Then, we compare them with the Environmental Chemicals Data and the result of fluorescent X-ray analysis and finally register the materials that are proved to have no problem only.
Acceptance of purchased components
We also conduct X-ray fluorescence analysis at a frequency depending on the risk rank when we receive purchased components to check whether they contain environmentally-unfriendly chemicals.
X-ray fluorescence spectrometer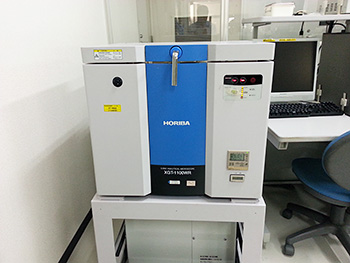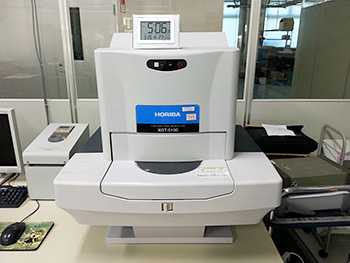 X-ray fluorescence analysis (*)
X-ray fluorescence analysis is an analysis method in which atoms constituting a molecule are irradiated with X-rays and the atoms that are present in the sample can be detected based on the characteristic wavelength and the energy intensity of the X-rays emitted from them.
Starting the portal site operation
Since June 2017, we have started receiving the data of contained environmental chemicals from suppliers and communicated our green procurement standard on the portal site that we developed for efficient data collection.
Education on management of environmentally-unfriendly chemicals
Since 2006, we have carried out education on the management of environmentally-unfriendly chemicals.
The program is intended for people working for Cosel at our Head Office Plant/Tateyama Factory and at our contract manufacturers, and logistics contractors.
Using training material developed by the division in charge of environmental management, training sessions are held by departments and tests were given to participants to check their understanding. This enables them to deepen their understanding of the objectives and the importance of managing environmentally-unfriendly chemicals as well as the efforts made by Cosel.
The RoHS Directive came into effect on July 1, 2006 (*1). It restricts the use of six substances that negatively impact the human body and the environment (mercury, lead, cadmium, hexavalent chromium, PBB, PBDE.)
The Directive was revised on January 3, 2013. In the new Directive (2011/65/EU:RoHS2), the restricted substances and their tolerated maximum concentration values remain the same. However, the number of product categories was increased and the CE marking requirements were added.
Cosel reduced the content of these six substances in our products to the levels specified by the RoHS Directive in February 2006 and started to display CE-mark on our products complied with the RoHS Directive in June 2015 (*2).
EU official journal ((EU)2015/863) announced that the 4 phthalates (* 4) become the addition to a RoHS Directive newly in June, 2015. And 10 substances shall be restricted from July 22, 2019.
Cosel will confirm the existence of 4 phthalates in the product and production process, and shall comply with the new Directive from July, 2018.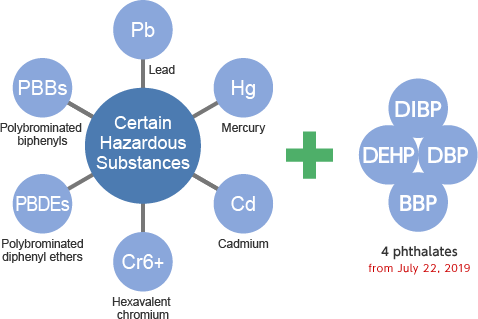 REACH requires all companies manufacturing or importing chemical substances within the European Union in quantities of one ton or more per year to register these substances with the European Chemicals Agency (ECHA) in its database.
Failure to register means the substance cannot be manufactured or imported.
As new substances are added to REACH's list of Substances of Very High Concern (SVHC) every 6 months, we expect our suppliers to quickly inform us of the latest information on contained substances.
On our web site, we disclose the information about the compliance with RoHS Directive and REACH SVHCs content information in our products. Specifically, we provide " Certificates of Non-Use of RoHS Substances " and " AIS data," which is the tool JAMP(*3) created. This enables customers using our products to obtain the information of chemical substances contained in our products promptly and efficiently.
(*1) What is RoHS Directive?
RoHS Directive is an EU directive that restricts the use of certain hazardous materials in electrical and electric equipment. The use of six substances, mercury, cadmium, lead, hexavalent chromium, polybrominated biphenyls (PBBs), and polybrominated diphenyl ethers (PBDEs) have been prohibited since July 2006.
(*2) Products that will be out of production are excluded.
RoHS compliant products are marked with the letter "R" at the end of their lot numbers (some products have the letter "R" in the upper right of the label.)
(*3) JAMP stands for Joint Article Management Promotion-consortium
(*4) 4 phthalates
Bis(2-ethylhexyl) phthalate (DEHP), Butyl benzyl phthalate (BBP), Dibutyl phthalate (DBP) and Diisobutyl phthalate (DIBP)