Our basic thinking on quality
Cosel has established the quality policy "Live up to our reputation in society by a quality-first approach," based on our management philosophy (organizational goal) of "Responding to the Trust of Society by Putting Quality as the Most Important Priority."
The bases of quality activities are product reliability and delivery of peace of mind to customers. We believe that these will enable us to earn the trust of society.
To realize this policy, we have identified the concept of total quality management (TQM) as a pillar of management, and we aim to link this concept to our sustained growth as an enterprise through raising the levels of quality of not only our products and services but also our work and our management.
Cosel will strive to improve quality at all stages from product planning and development through production, sales, and service, in order to provide our customers with attractive products and services that win their trust and deliver peace of mind and satisfaction.
Quality management system
The chart below depicts the essential processes of our quality management system and their flows, interrelations, and related organizations.
Quality management framework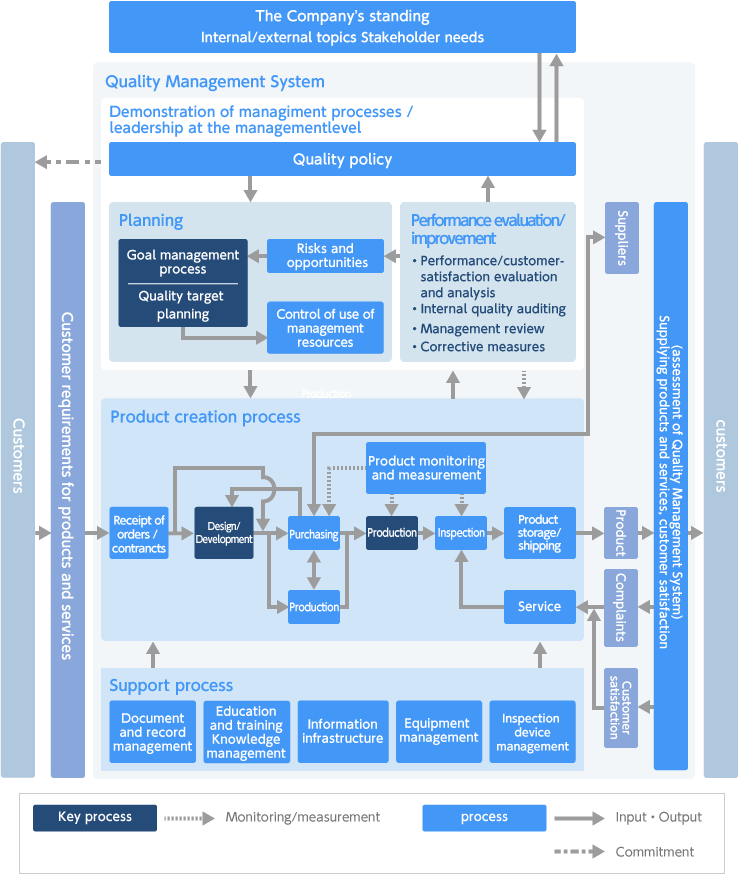 ISO 9001 certification
We were the first company in Toyama Prefecture to earn ISO 9001 international certification through establishing a quality management system, and we continue to implement thorough quality management.
We began application of the FY 2015 version of ISO 9001 in October 2016. We successfully acquired certification under the FY 2015 version following a transition audit in June 2017, and we have maintained this certification ever since.
We will continue striving to improve quality further and increase customer satisfaction.
Date of Acquisition
FY 1987 version: June 21, 1993 (first in Toyama Prefecture)
FY 2000 version: March 20, 2003
FY 2008 version: July 23, 2010
FY 2015 version: July 7, 2017
Scope
Design, development, manufacture, and servicing of regulated DC power supplies (servicing limited to repair of collected units)
Design, development, manufacture (outsourcing), and servicing of noise filters (servicing limited to repair of collected units)
Registered sites
Related sites
Head Office Factory, Tateyama Factory, Safety Standard Office, domestic sales facilities
Certifying agency
Japan Quality Assurance Organization
Increasing customer loyalty by creating added value
Cosel provides technical support service through a toll-free telephone number and contact form on the website as well as an online technical support contact point. Our dedicated support team strives to respond to inquiries from customers quickly and accurately.
We also provide a wide range of support services such as visits to customers and onsite evaluation of EMI, EMS, and other products at our own facilities with the customers present, as well as technical consultation services.
We have stored the details of more than 100,000 technical consultations we have responded to through now in a database, to help improve the quality of products and services in the future.
We also strive to improve products and services and create added value by collecting information on complaints, conducting customer satisfaction surveys, and continuously reviewing and analyzing customer feedback. All of these efforts are intended to contribute to increased customer loyalty.
Responding to quality issues
Our technical staff respond promptly and accurately to any product failures that may occur. We provide maintenance services that include failure analysis, repair, and overhaul in response to any defects or failures occurring within processes or in the field.
In the event of a defect, we ask the customer for information on subjects such as the situation and environment where the product was used. Through accumulating such information internally, we strive to investigate the cause and resolve the defect as quickly as possible, with reference to past cases.
In addition, we analyze the defects in products returned from the market and provide feedback to product development and the production site. Then, we run through the plan-do-check-act (PDCA) cycle, intended to make improvements from the customer's perspective. In this way, we strive to improve product quality and provide service that will satisfy customers.
Initiatives to address conflict minerals
There are concerns that mineral resources mined in the Democratic Republic of the Congo and nine neighboring countries serve as sourced of funding for armed groups in these regions. To address this issue, in July 2010 the United States enacted the Dodd-Frank Act, requiring U.S.-listed companies to conduct inquiries to identify refiners of the conflict minerals and file reports to the U.S. Securities and Exchange Commission.
We support the aims of the Dodd-Frank Act and have established our own rules investigation of conflict minerals, to promote responsible procurement of minerals. We explain the purpose and necessity of investigation of conflict minerals to our suppliers and collect information utilizing the Conflict Mineral Reporting Template (CMRT).
When customers ask us to disclose information on the results of our investigation of conflict minerals, we provide the information using the CMRT.