Industry-academy joint research and cooperation with various industry associations in technical fields
Cosel is advancing joint research with academic institutions including Toyama Prefectural University and University of Toyama, communicating to students the spirit of manufacturing as well as the latest science and technology through establishing factor technologies in areas such as solder strength analysis.
We also participate proactively in the activities of various industries and associations both inside and outside Toyama Prefecture, taking on a wide range of issues and challenges in cooperation with related companies.
Joint research
Society for Promotion of Exchange, Center for Joint Research, University of Toyama
Society for Research Collaboration, Toyama Prefectural University
Industry associations
Japan Electronics and Information Technology Industries Association (JEITA)
The Japanese Society For Quality Control
KEC Electronic Industry Development Center
Union of Japanese Scientists and Engineers
Japan Management Association
Japan Society for the Promotion of Science
Toyama Association of Corporate Executives
The Toyama Chamber of Commerce and Industry
Toyama Employer's Association
Toyama Prefectural Machinery and Electronic Industries Association
Society for Young Engineer Development, Toyama New Industry Organization
Toyama Technology Exchange Club
Toyama IoT Acceleration Consortium
Society for Technology Promotion, Toyama National College of Technology
Toyama Society for the Promotion of Technical Education
Toyama Prefecture Middle School Manufacturing Education Promotion Conference
QC Circle Toyama Section Hokuriku Branch
Internships
Internships provide opportunities for students to raise awareness by thinking about and experiencing themselves the working world, life in a company, and what it means to be a professional before they begin their careers, through work experience in the actual workplace.
Cosel offers internships in operations related to development or production technology, providing opportunities to experience work related to design of power supplies and to learn about the fundamentals of production process design through classroom study and work experience.
Cosponsoring the Toyama Prefecture Middle School Manufacturing Education Promotion Conference
Cosel is a cosponsor of the Toyama Prefecture Middle School Manufacturing Education Promotion Conference, organized by the Toyama Prefectural Machinery and Electronic Industries Association to help middle-school students appreciate the enjoyment of manufacturing and get a feel for how fascinating it can be, as one of a wide range of possible future career paths.

This activity consists of a program to dispatch instructors, company tours, and support for teaching materials and other resources. We actively support this activity based on our belief that lectures on subjects such as the enjoyment and fascination of manufacturing and how what middle-school students learn is put to use in society, as well as opportunities to tour actual business workplaces, will help students in choosing their future career paths.
Blood drives
Amid Japan's falling birth rate and the aging of its society, the number of senior citizens who need blood transfusions has been increasing while the number of young people who can donate blood has been decreasing. This has led to a nationwide blood shortage.
We conduct employee blood drives every year and cooperate in the activities of the Japanese Red Cross Society Blood Center.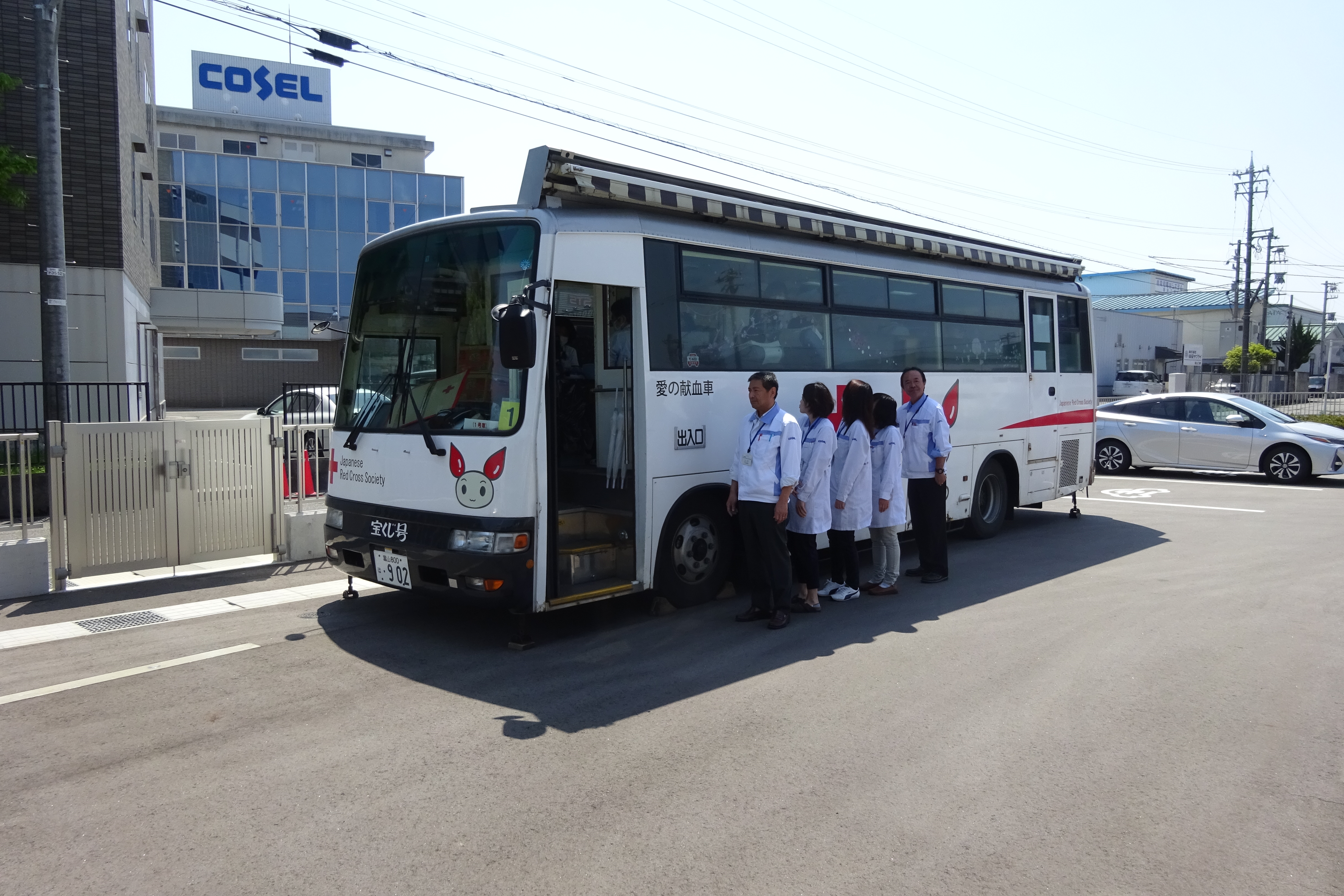 Fund raising
In the past, Cosel has donated both the proceeds from an annual company bazaar and money collected from employees to the Community Chest of Toyama. However, since the bazaar has been canceled to help stop the spread of COVID-19, recently we have continued only the collecting of donations.
The donated funds are used for activities conducted by municipal social welfare councils, such as home welfare services, volunteer development, accident prevention for children, and supporting the healthy growth of young people.
Support for athletic activities
Cosel Cup Challenge Super Kids
Cosel Cup Challenge Super Kids has been held continuously since 1989. This tournament has become an established tradition in the community, as a chance for outstanding elementary-school athletes selected from more than 100 schools in Toyama Prefecture to compete in five events: the 100-meter dash, the shot put, the long jump, zigzag dribbling, and swimming.
While the event was cancelled in 2020 to help stop the spread of COVID-19, it was held in April 2021 while implementing various measures to prevent infection, welcoming 216 participating students from 90 schools in the prefecture.
Due to rain on the day of the tournament, only three events were held (the long jump, zigzag dribbling, and swimming). The students competed vigorously in spite of the rain. Fourteen Cosel staff members volunteered to guide the students during the tournament.