Basic Policy on Corporate Governance
Our company considers corporate governance a vital part of management. In addition to measures to improve management efficiency in order to respond to the trust and expectations of all our stakeholders, we have introduced an Audit & Supervisory Board system, which has a monitoring function on our management and ensures that we abide by laws as smoothly as possible.
Corporate Governance System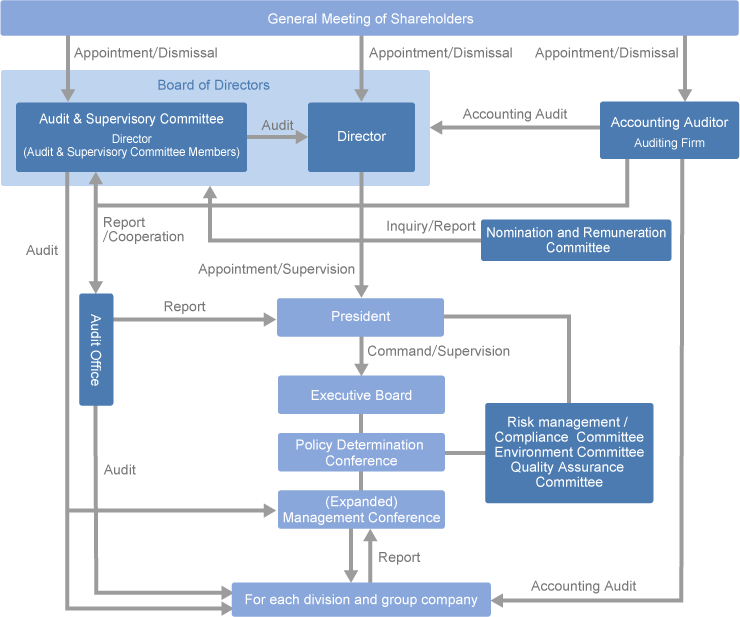 Board of Directors
Board of Directors make decisions regarding items regulated in law or articles of incorporation, management policy, and business execution, as well as audits the business execution of the President. There are eight directors (of whom two are external directors), and meetings are held once a month. Management policy decisions made at the meeting are executed based on instructions by the President via the directors in regard to the areas for which they are responsible.
Audit & Supervisory Board Member/Audit & Supervisory Board
We have a total of three members on the Audit & Supervisory Board: one full-time member and two external members (of whom one is a lawyer). They attend Directors' and other meetings, and audit the process of business execution.
Account Audit
The Accounting Auditor implements audits based on Companies Act and the Financial Instruments and Exchange Act in regard to all of our company offices and group companies. They work in partnership with Audit & Supervisory Board Member/Audit & Supervisory Board and the Audit Office directly under the jurisdiction of the President, and implement audits on internal controls. When new laws or accounting regulations are introduced or revised, they work with financial departments in order to reach agreement with them.