Product Line-up for Medical Applications
AS of Sep. 11 2019
*We plan to expand our selection of IEC60601-1certified power supplies for medical equipment.
Series
Model
Medical Safety Agency IEC/EN60601-1
Other Safety Agency Approvals
3.1 edition
(2MOPP)
3.1 edition
(MOOP)
GMA
GMA300F
●
●
UL62368-1, ANSI / AAMI ES60601-1, C-UL, EN62368-1
GHA
GHA300F
●
●
UL60950-1, ANSI / AAMI ES60601-1, C-UL, EN60950-1
GHA500F
●
●
LMA
LMA100F
●
ANSI / AAMI ES60601-1
LMA150F
●
LMA240F
●
PMA
PMA15F
●
UL60601-1, C-UL(CSA-C22.2 No.601.1)
PMA30F
●
PMA60F
●
PMA100F
●
ACE
ACE300F-H
●
UL60950-1, C-UL (CSA60950-1)
ACE450F-H
●
ACE650F-H
●
ACE900F-H
●
PCA
PCA300F
●
●
UL62368-1, ANSI / AAMI ES60601-1, C-UL, EN62368-1
PCA600F
●
●
PCA1000F
●
●
AME
AME400F
●
●
UL62368-1, ANSI / AAMI ES60601-1, C-UL, EN62368-1
AME600F
●
●
AME800F
●
●
AME1200F
●
●
MOOP(Means of Protection for Operators)
MOPP(Means of Protection for Patients)
【NOTICE】
The ACE series has an internal fuse on only live line. It is required to have fuses or circuit breakers on both line when applying for medical approvals. Please refer to the external fuses/circuit breakers in the connection examples shown in figures 1 & 2.
Advantage of using Medical IEC60601-1 Approved Power Supplies
1. We contribute towards the reduction of the review period and expenses required in acquiring safety standards certification.
Safety standards are stipulated to guarantee the protection of people, property, and the environment. For medical devices it is required to meet the safety standards as stipulated by each country based on the IEC60601-1 medical electrical equipment standards as stipulated by the International Electrotechnical Commission (IEC). Compared to the commonly-known IEC6095-1 standards for information technology equipment, since medical devices involve the safety of people, the IEC60601-1 standards are much stricter.
In order to aquire safety certification it is necessary to test the equipment by utilizing a testing company. In the case medical equipment, of course it is necessary to test the therapeutic ability of the device as well as its safety, but the testing of safety for power supplies that primarily and secondarily insulate electricl potential is particularly strict and it is not unusual that testing takes several months since it is necessary meet the requirements for certification of internal componets, submit test samples, confirm insulating distances/withstand voltage design, as well run the temperature rise and abnormality tests. If you choose to use our standard certified medical electrical equipment power supplies, it is generally not necessary to conduct safety standards testing and it is possible to reduce testing for primary and secondary electrical potential insulation. In addition, since our standard power supplies are constantly updated to meet the changing medical electrical equipment standards, we are also able to contribute towards reducing the amount of time needed for audits and adhering to updated regulations following mass production.
2. We contribute towards system miniaturization as well as weight and cost reduction.
In case of Power Supplies (Without Medical Approvals)

In case of Power Supplies (Medical Safety Agency Approvals)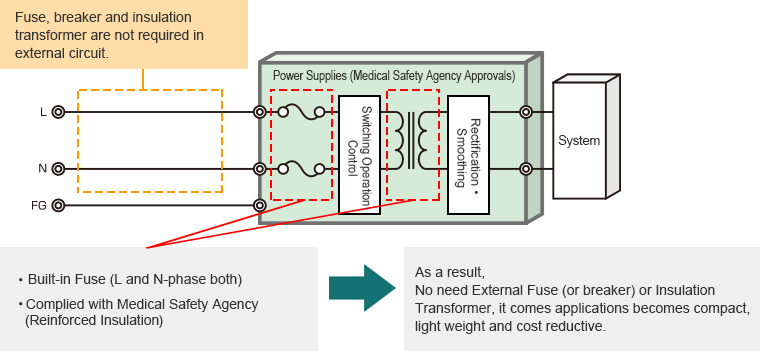 Leakage Current Specifications
| Series | 100VAC input | 230VAC input |
| --- | --- | --- |
| ACE (-H option) | 0.30mA max | 0.50mA max |
| ACE (-HG option) | 0.10mA max | 0.15mA max |
| Series | 100VAC input | 240VAC input |
| --- | --- | --- |
| GHA | 0.125mA max | 0.250mA max |
| GMA | 0.13mA max | 0.30mA max |
| LMA | 0.10mA max | 0.25mA max |
| LMA (-G option) | 0.05mA max | 0.10mA max |
| PMA (15・30W) | 0.05mA max | 0.10mA max |
| PMA (60・100W) | 0.09mA max | 0.18mA max |
| PCA | 0.30mA max (reference) | 0.50mA max |
| AME | 0.15mA max (reference) | 0.30mA max |