Rated Input:AC85 - 264V 1Φ
Rated Output Wattage:100 - 300W
| | |
| --- | --- |
| Warranty Period | 5-year (Refer to Instruction Manuals) |
This power supply is manufactured by SMD technology. The stress to P.C.B like twisting or bending causes the defect of the unit, so handle the unit with care.
*Make sure necessary tests will be carried out on your end equipment with the power supply installed in accordance with any required EMC/EMI regulations.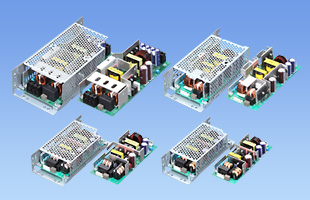 For further information of replacement, please refer to each model information.
Features
• High power & peak power
• Small and compact PCB construction
• Built-in inrush current, overcurrent and overvoltage protection
circuits
• Harmonic attenuator (Complies with IEC61000-3-2 class A)
• Universal input (AC85 - 264V)
• Power factor correction
Model Line-up
Optional parts are available. (For further information, please see each model information.)