KH and KL series is the AC/DC power supply which specify DIN rail mounting.
KL series is lower price model of KH series and the specification is different partially.
Table 1 shows the specification comparison and the suitable product shall be selected for the requirement.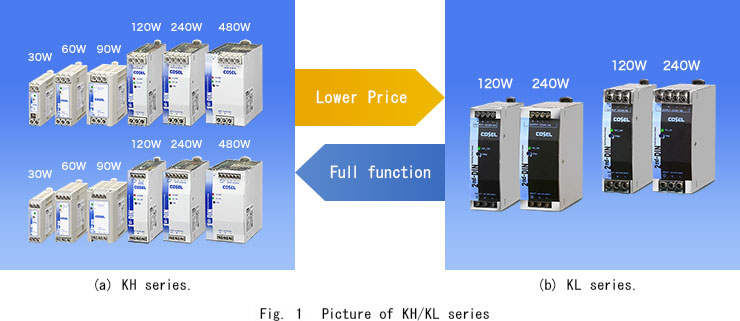 Table.1 Specification Comparison
#
Index
KHEA/KHNA
120F,240F
KLEA/KLNA
120F,240F
Note
1
Output Voltage
DC24V
DC24V
 
2
Electrical
characteristics
Input voltage *1
AC85-264V
DC88-370V*1
*External DC fuse is NOT required
AC85-264V
DC120-370V*1
*External DC fuse is required
 
3
Efficiency
(Vin=230V)
120F
92.0%
88.0%
 
4
240F
94.0%
90.0%
 
5
Output voltage adjustment range
-7%-19%
(22.5-28.5)
±10%
(21.6-26.4)
 
6
Peak capability
○
150% peak available within 5 sec
×
N/A
 
7
Operating temperature *1
-25℃-70℃
-40℃ start up available
-20℃-70℃
8
Temperature derating
(Vin=230V)
120F
60℃,100%
55℃,100%
9
240F
60℃,100%
50℃,100%
10
Function
DC OK/ALARM
DC_OK:Green LED
ALRAM:Red LED
DC_OK:Relay output
DC_OK:Green LED
11
Remote control
○
Built-in
×
N/A
12
Structure
Dimension
120F
37×124×117mm
38×124×117mm
 
13
240F
50×124×117mm
50×124×117mm
 
14
Screw hold terminal block
(KHNA,KLNA)
○
Built-in
×
N/A
15
Color
White
Black
16
Safety Standard
AC input
UL60950-1,C-UL,EN60950-1,UL508
ANSI/ISA12.12.01,ATEX
(Explosion Protection)
GL
(Marine standard)
UL60950-1,C-UL,EN60950-1
(Information Technology Equipment)
UL508
(Industrial Control Equipment)
17
DC input
UL60950-1,EN60950-1
(Information Technology Equipment)
N/A
*1 Temperature derating is required (Detail is shown in the instruction manual)
Hatched areas have advantage against the competitive model.
For more details, please see specification and instruction manual on our website.