1. What is CCC?
CCC (China Compulsory Certificate system) is compulsory certification system regarding safety and EMC, and enforced in May 1st, 2002 by AQSIQ (General Administration of Quality Supervision, Inspection and Quarantine of the People's Republic of China) and CNCA (Certification and Accreditation Administration of the People's Republic of China).
It starts 19 groups, 132 items (Electric/Electronics product, components, material, vehicle etc.) as an Primary compulsory item. However the compulsory item is frequently added, and there are 20 groups, 158 items as of January 2018.
In order to judge whether the item is applicable or not, HS code is referred.
CCC mark shown in Fig. 1 is marked on the CCC certified product.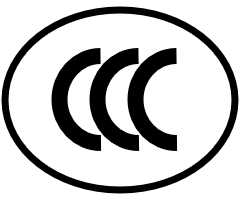 Fig.1 CCC mark
2. Cosel's product for CCC certification.
(1) Power Supply
1) Applicable Power Supply Equipment
Power Supply Equipment listed below are applicable for CCC certification.
These items should have CCC certification by itself.
Switching power supply for small computer or server which the input/output voltage exceeds 36V.
[ HS code:8504.40-13 (Static converters, Voltage-stabilized suppliers of the machines of heading 84.71) ]
Rectifiers, other than silicon rectifier
[ HS code:8504.40-19 (Other Power Supply Unit) ]
2) Cosel's product
Our products are off-the-shelf power supply and presumed to use in the final equipment therefore they are not the applicable items.
AC-DC Power supply HS code: 8504.40-1102 (Silicon rectifiers)
DC-DC Power supply HS code: 8504.40-9001 (others)

(2) EMI Filter
There is no categories for EMI Filter in CCC. Therefore is no applicable product.
 [ EMI Filter HS code:8504.90 (partial components) ]

(3) Others (Optional part)
Optional part are not categorized as CCC applicable items.
 [ Optional Harness HS code: 8544.42-2003 ]
(Power cable fitted with connectors, for a voltage not exceeding 1,000V)
3. What if final equipment is applicable item for CCC?
When final equipment applies CCC certification, our product would be considered as a part of the equipment.
We can provide necessary documents for the certification, so please consult us if final equipment applies CCC certification.